Dumfries & Galloway
Nik Sargent
inPictures
Annan
Dumfries & Galloway
Scotland

web address:- inpictur.es/
blog:- inpictur.es/blog
facebook:- inPictures



Nik specialises in producing affordable fine art portrait and landscape photography, both "off the shelf" and to order for individual private and corporate clients.

He grew up in the Highlands of Scotland where he developed his love for wide-open spaces and colours of nature, which is a clear influence in his work. However, Nik's distinctive style blurs the boundary between photography and art, to create eye-catching images that often have the look of a painting.

In 2010 Nik had the honour of being recognised by Tiffen as their very first stills "Featured Imagemaker", joining the ranks of their recognised cinematographers, famous for work such as Superman, The Vampire Diaries, Desperate Housewives, Dante's Inferno, Terminator Salvation and many more.

Nik is primarily based in Cambridgeshire but travels the UK and visits his beloved Scotland regularly. He loves nothing more than to delight his clients with beautiful and truly unique artistic imagery.

Scenic
Limited edtion
Panorama
Wildlife photos
Fineart
Sunset
Sunrises
Landscapes
Scenic photography
Tourism photography
Seasonal photography
Sunset Pictures
Postcards
Brochures
Cityscapes
Nightscapes
Stock photos
Fine Art images
Monochrome
Cloudscapes
Oceans
Europe
UK
Scotland

Nik Sargent has an Exhibition here.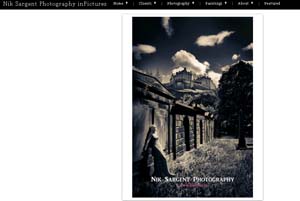 p
More Photographers in Scotland